83875
Shaun the Sheep Movie: Farmageddon
Synopsis
Strange lights over the quiet town of Mossingham herald the arrival of a mystery visitor from far across the galaxy. When the intergalactic visitor an impish and adorable alien called LU-LA crash-lands near Mossy Bottom Farm, Shaun soon sees an opportunity for alien-powered fun and adventure and sets off on a mission to shepherd LU-LA home. Her magical alien powers, irrepressible mischief and galactic sized burps soon have the flock enchanted. Shaun takes his new extra-terrestrial friend on the road to Mossingham Forest to find her lost spaceship, unaware that a sinister alien-hunting agency is on their trail.
Film Credits
Director:
Richard Starzak
Will Becher
Richard Phelan
Starring:
Kate Harbour
Justin Fletcher
John Sparkes
David Holt
Amalia Vitale
More Information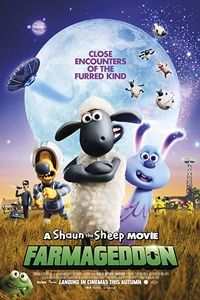 Rating:
U
Universal - Suitable for all
A U film should be suitable for audiences aged four years and over, although it is impossible to predict what might upset any particular child. U films should be set within a positive framework and should offer reassuring counterbalances to any violence, threat or horror. If a work is particularly suitable for pre-school children, this will be indicated in the BBFCinsight.
Country:
United Kingdom, France
Released:
26 September 2019
Genres:
Animation
Comedy
Family
Shaun the Sheep Movie: Farmageddon