83875
Shaun the Sheep Movie: Farmageddon
Synopsis
Strange lights over the quiet town of Mossingham herald the arrival of a mystery visitor from far across the galaxy. When the intergalactic visitor an impish and adorable alien called LU-LA crash-lands near Mossy Bottom Farm, Shaun soon sees an opportunity for alien-powered fun and adventure and sets off on a mission to shepherd LU-LA home. Her magical alien powers, irrepressible mischief and galactic sized burps soon have the flock enchanted. Shaun takes his new extra-terrestrial friend on the road to Mossingham Forest to find her lost spaceship, unaware that a sinister alien-hunting agency is on their trail.
Film Credits
Director:
Richard Starzak
Will Becher
Richard Phelan
Starring:
Kate Harbour
Justin Fletcher
John Sparkes
David Holt
Amalia Vitale
More Information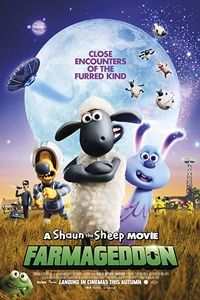 Rating:
FSK 0
FSK ab 0 freigegeben/Freigegeben ohne Altersbeschränkung
Das Kennzeichen "FSK ab 0 freigegeben" entspricht dem bisherigen Kennzeichen "Freigegeben ohne Altersbeschränkung". Kleinkinder erleben filmische Darstellungen unmittelbar und spontan. Ihre Wahrnehmung ist vorwiegend episodisch ausgerichtet, kognitive und strukturierende Fähigkeiten sind noch kaum ausgebildet. Schon dunkle Szenarien, schnelle Schnittfolgen oder eine laute und bedrohliche Geräuschkulisse können Ängste mobilisieren oder zu Irritationen führen. Kinder bis zum Alter von sechs Jahren identifizieren sich vollständig mit der Spielhandlung und den Filmfiguren. Vor allem bei Bedrohungssituationen findet eine direkte Übertragung statt. Gewaltaktionen, aber auch Verfolgungen oder Beziehungskonflikte lösen Ängste aus, die nicht selbständig und alleine abgebaut werden können. Eine schnelle und positive Auflösung problematischer Situationen ist daher sehr wichtig.
Country:
United Kingdom, France
Released:
26 September 2019
Genres:
Animation
Comedy
Family
Shaun the Sheep Movie: Farmageddon