123180
Dragged Across Concrete
Synopsis
DRAGGED ACROSS CONCRETE follows two police detectives who find themselves suspended when a video of their strong-arm tactics is leaked to the media. With little money and no options, the embittered policemen descend into the criminal underworld and find more than they wanted waiting in the shadows.
Film Credits
Producer:
Keith Kjarval
Jack Heller
Tyler Jackson
Sefton Fincham
Dallas Sonnier
Starring:
Don Johnson
Mel Gibson
Vince Vaughn
Michael Jai White
Laurie Holden
Jennifer Carpenter
Tory Kittles
More Information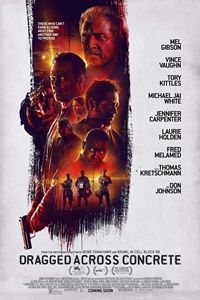 Rating:
R
Restricted. Children Under 17 Require Accompanying Parent or Adult Guardian.
An R-rated motion picture, in the view of the Rating Board, contains some adult material. An R-rated motion picture may include adult themes, adult activity, hard language, intense or persistent violence, sexually-oriented nudity, drug abuse or other elements, so that parents are counseled to take this rating very seriously. Children under 17 are not allowed to attend R-rated motion pictures unaccompanied by a parent or adult guardian. Parents are strongly urged to find out more about R-rated motion pictures in determining their suitability for their children. Generally, it is not appropriate for parents to bring their young children with them to R-rated motion pictures.
Country:
Canada, United States
Language:
English, Spanish
Genres:
Action/Adventure
Drama
Suspense/Thriller