123180
Dragged Across Concrete
Synopsis
DRAGGED ACROSS CONCRETE follows two police detectives who find themselves suspended when a video of their strong-arm tactics is leaked to the media. With little money and no options, the embittered policemen descend into the criminal underworld and find more than they wanted waiting in the shadows.
Film Credits
Producer:
Keith Kjarval
Jack Heller
Tyler Jackson
Sefton Fincham
Dallas Sonnier
Starring:
Don Johnson
Mel Gibson
Vince Vaughn
Michael Jai White
Laurie Holden
Jennifer Carpenter
Tory Kittles
More Information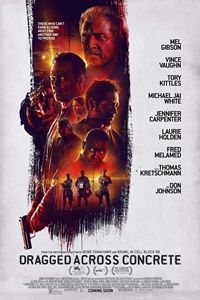 Rating:
18
Suitable only for adults
No one younger than 18 may see an 18 film in a cinema. No one younger than 18 may rent or buy an 18 rated video work. Adults should be free to choose their own entertainment.
Country:
Canada, United States
Language:
English, Spanish
Genres:
Action/Adventure
Drama
Suspense/Thriller