Synopsis
A documentary presenting the live recording of Aretha Franklin's album Amazing Grace at The New Bethel Baptist Church in Watts, Los Angeles in January 1972.
Film Credits
Director:
Alan Elliott
Sydney Pollack
Producer:
Joe Boyd
Rob Johnson
Sabrina V. Owens
Chiemi Karasawa
Spike Lee
Alan Elliott
Joseph Woolf
Tirrell D. Whittley
Angie Seegers
Starring:
Aretha Franklin
Mick Jagger
Chuck Rainey
Bernard "Pretty" Purdie
Sydney Pollack
James Cleveland
C.L. Franklin
More Information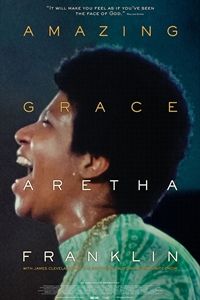 Rating:
U
Universal - Suitable for all
A U film should be suitable for audiences aged four years and over, although it is impossible to predict what might upset any particular child. U films should be set within a positive framework and should offer reassuring counterbalances to any violence, threat or horror. If a work is particularly suitable for pre-school children, this will be indicated in the BBFCinsight.
Genres:
Documentary
Musical